Now available: a new book detailing Hurstwic's research on Viking combat.
Men of Terror, A Comprehensive Analysis of Viking Combat
(
Westholme
2021) is a richly illustrated interdisciplinary study of the heart of Viking society: weapons and combat and is based on more than two decades of research at Hurstwic. The book takes its title from a runestone raised 1000 years ago in Denmark in memory of a man named Fraði, who is called the "first among Vikings" and a "terror of men." The authors present a holistic picture of Fraði's society from what has previously been only disparate and intriguing parts. Order it now from your favorite book seller.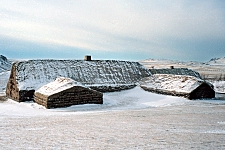 Learn more about Viking-age topics using on-line articles and other documents created by Hurstwic. Whether you are a scholar, a student, or just have a casual curiosity about Vikings, we think you'll find something of interest here.