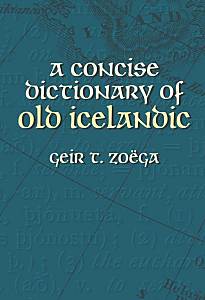 No other language knowledge is required, but experience in learning other languages, or extensive knowledge of modern English grammar will be helpful. Students should have available a paper copy of Zoega's book, A Concise Dictionary of Old Icelandic. A inexpensive paperback reprint is available for under $20. The book has been published in many editions, and used copies of earlier editions are available for even less. There are on-line editions as well, but we recommend that students have a paper copy at their disposal. Other printed materials, such as grammar guides, a bibliography, and sample saga texts, will be available on-line. Students may want to consider printing a hard copy of some of those materials, such as the grammar guide, in advance.
An excellent edition of Gylfaginning is available at no charge on-line from the Viking Society for Northern Research, and students may wish to consider downloading this PDF, although it is not required for the course since you will be provided with the excerpts we'll be translating in the class. Similarly, there is also a glossary available with an index of names, which may be handy since it is more extensive than the glossary you will receive in class.

Students and instructor work together on a difficult passage.